The National Retail Federation (NRF) expects retail imports to surge over the summer months.
By Michael McGrady, Maritime Direct Americas & Pacific Correspondent
WASHINGTON — Global Port Tracker, a program of the National Retail Federation and Hackett Associates, announced its latest retail imports projections over the coming summer months.
According to NRF, the unprecedented surge of imports through major US container ports that began last summer is expected to continue through at least the end of the summer of 2021.
Due to increased consumer demand, the NRF forecasts that the imports will be up nearly 27 percent in the first half of 2021. That's a total of about 12 million TEUs of cargo.
"We've never seen imports at this high a level for such an extended period of time," said Jonathan Gold, the federation's vice president for supply chain and customs policy, in a press statement. "Records have been broken multiple times, and near-record numbers are happening almost every month. Between federal stimulus checks and money saved by staying home for the better part of a year, consumers have money in their pockets, and they're spending it with retailers as fast as retailers can stock their shelves."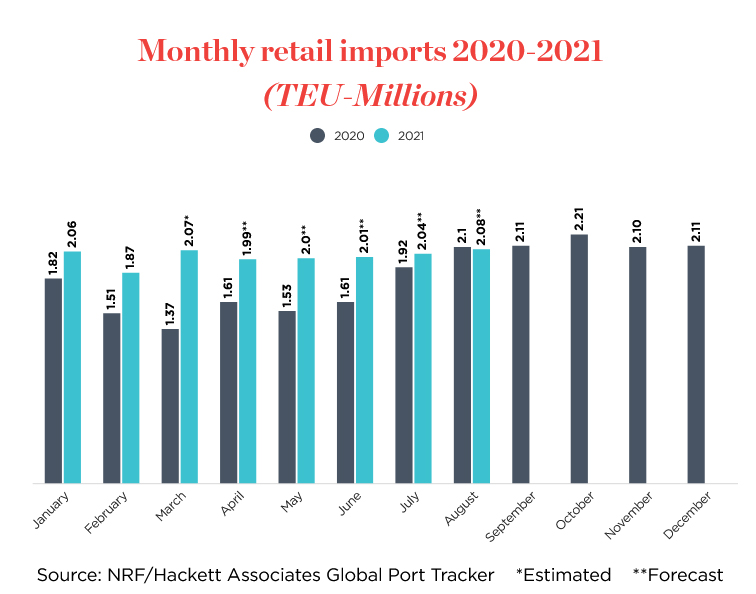 "Congestion at U.S. ports is abating as container carriers and terminals adjust to the new normal," said Ben Hackett, founder of Hackett Associates. He said that "the busiest February on record as the ports worked to clear the backlog, and the number of ships at anchor in San Pedro Bay waiting to dock at Los Angeles and Long Beach is dropping."
Even as ports continue to meet the challenge, the numbers for the fourth quarter aren't yet predicted either.
However, it wouldn't be surprising if the high volumes persist into the holiday season.